Switching Puzzle | Rangierspiel:
Inspired by the switching puzzle created by Peter Barnes and Joe Driscoll of ETE's San Francisco Bay Area Chapter, we decided to build one of our own to take to regional train shows such at the Finger Lakes Railfair held each April in Ithaca and the Central New York Train Fair held each November in Syracuse. Peter and Joe have also generously shared their instructions which will provide guidance and inspiration as we develop our own to fit our puzzle and rolling stock. To them both, a big thank you!
Angefeuert durch das Rangierspiel von Peter Barnes und Joe Driscoll vom San Francisco Bay Area Chapter des ETE entschieden wir uns auch eins zu bauen damit wir damit bei regionalen Eisenbahnmessen wie die Finger Lakes Railfair auftreten konnten. Peter und Joe haben ihre Anweisungen mit uns geteilt und uns bei der Entwicklung unseres Rangierspiel sehr geholfen. Danke!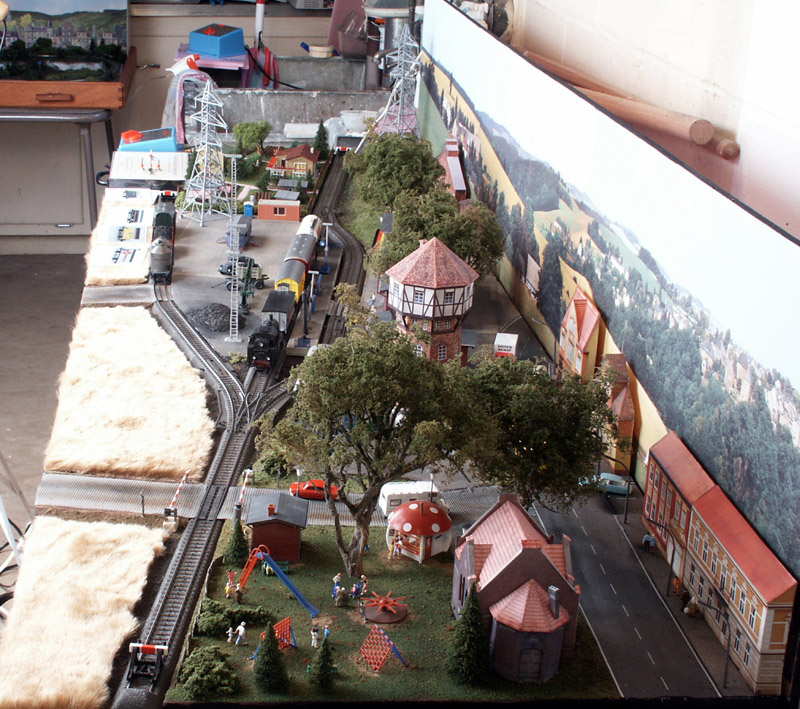 Overall View | Gesamtansicht
Our puzzle is constructed on a 20" x 80" hollow core door with 1/2" pink foam insulation board used for landscaping. Wiring is run through to the other side. Advantages of hollow core doors are that excess wires can be stowed away inside, and light weight without sacrificing rigidity.
Unser Rangierspiel wurde auf einer holen Türe gebaut wobei schaumstoff Isolierungsplatten für die Landschaftsgestaltung benutzt wurden. Die Verkabelung verläuft auf der Unterseite. Vorteile der holen Tür sind das die extra Kabel im inneren der Tür verstaut werden können und geringes Gewicht bei hoher Stabilität.


Track Diagram – X = Uncoupler Tracks
Gleisbild – X = Entkuppler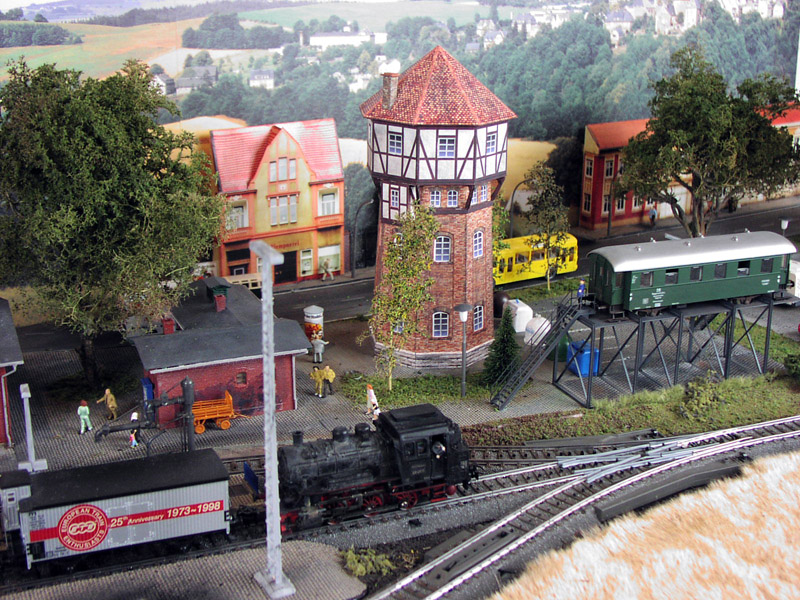 Centerpiece of our puzzle is Auhagen's "Krakow" station. Other structures are also from Auhagen, Faller, Märklin, Schreiber, Stipp, and Vollmer. When complete, everything will be appropriately weathered and detailed. Tree's were made over the past week and feature trunks by Sweetwater Scenery, branches of Scenic Express Supertrees, and Woodland Scenics flocking, all available at Borodino in Eldbridge, NY. Though work, these are the best looking trees I've every made, and seen.
Mittelpunkt unseres Rangierspiels ist Auhagens Bahnhof "Krakow." Andere Bauten stammen von Auhagen, Faller, Märklin, Schreiber, Stipp, und Vollmer. Alle Bauten werden gealtert. Bäume wurden aus Stämmen von Sweetwater Scenery mit Geäst von Scenic Express Supertrees (Seemoos), und Woodland Scenics Flocken. Der Aufwand hat sich sehr gelohnt.
Landscaping | Landschaftsgestaltung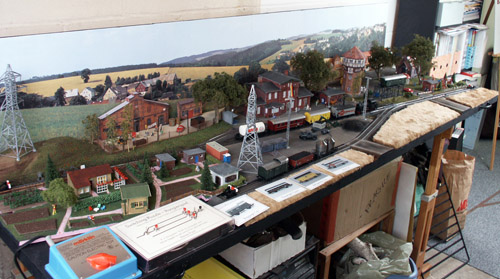 Auhagen background "Wolkenstein" mounted on foam insulation board in two part, and attached to edge of layout with 2" wide velcro strip for easy removal to make transport easier. The background will be augmented by some MZZ background accents.
Auhagen Hintergrundskulisse wurde in zwei Teilen auf Schaumisolierungsplatten montiert, und Velcro an der Anlagenkante montiert damit der Hinergrund für den Transport entfernt werden kann. Der Hintergrund bekommt noch MZZ Akzente.
Beginnings | Anfänge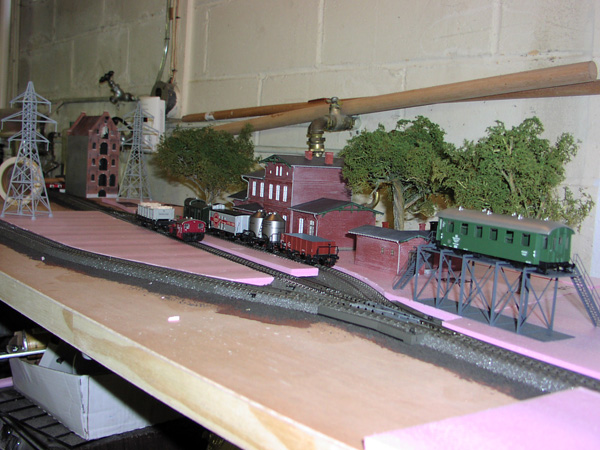 Preliminary placements | Hope mapping out her Schreber/Kleingarten complex.
Vorläufige platzierungen | Hope beim planen Ihrer Schreber-/Kleingartenanlage.
MANY years later a video of the puzzle in operation as viewed from one end.