---
---
Please note that effective 4/2/2019 the archive is accessible to subscribers only. To gain access, click on link above and then using the email you subscribed under register a password towards the right hand side of the page.
ABOUT BOOK_ARTS-L
Full FAQ with detailed instructions

Put ALL commands in body of message and send to: listserv@listserv.syr.edu

To Subscribe send:

subscribe Book_Arts-L "Your full real name"

Leave out the "" . All subscription requests must include the full real name or they will not be approved by the moderator.

To post a message send to: Book_Arts-L@listserv.syr.edu

For daily digest: set Book_Arts-L mail digest

To unsubscribe: unsubscribe Book_Arts-L

A Bind-O-Rama celebrating a distinctive technique
Long threatened with extinction, the organizers of Spring[binding] Hath Sprung, an informal Bind-O-Rama, hope to help revive the springback style and promote its use as a canvas for creative binding. While the title, timing, and play on words may not seem serious, rest assured, we are serious about promoting this style of binding.
As a style, the springback is firmly rooted in the 'trade' binding tradition. The springback's robustness, and ability to lie flat and open for extended periods of time without stressing the spine unduly, make the structure ideal for use as account and record books. These same qualities make it suitable for guestbooks, lectern Bibles, and similarly used books. Regrettably the structure has not seen much use on fine bindings or in contemporary book art, especially as the structure would be a suitable platform for many elements of design bindings. For instance, the thick boards would provide a canvas for more sculptural or inset designs. With some minor modification it could also serve as a means of presenting pop-up constructions.
Recently, workshops and presentations have been given on the springback in the United States for the Austin Book Workers, at Minnesota Center for Book Arts, for the New England and Mid-west Chapters of the Guild of Book Workers and at the Guild's Standards of Excellence seminar, and most recently in Los Angles. The style is also still required learning for apprentices in Germany. Articles on the style have appeared in the New Bookbinder and will soon appear in the Guild of Book Workers' Journal. A bibliography of tutorials was included on the exhibition announcement page.
Participants in the Bind-O-Rama were challenged to produce in either the English or German style a creative springback binding. The book could be bound in any workable material (cloth, leather, paper, ...) and incorporate any number of decorative techniques, including edge treatments, visible structure and cut-outs, inlays and onlays... The main intent of this exhibition was to have fun reviving the technique. While we had hoped for a greater response, we hope that binders will continue to rediscover this technique and experiment with it. Many thanks to all those who participated. The entry guidelines remain online.
A show and tell of some of these works will occur at that the Guild of Book Workers Seminar on Standards of Excellence in Providence, RI, USA, in mid-November.
Peter Verheyen & Donia Conn
This exhibition is dedicated to the memory of Peter S. Graham, University Librarian at Syracuse University, who unwittingly gave this exhibition its name and took great delight in all the book arts.
---
The Binders:
Eric Alstrom, Okemos, Michigan, USA

"Springtime in England, or Maps of England: Illuminated, Enhanced and Generally Made More Useful... for the Purpose of Finding Ones Way about the English Countryside... during the Most Glorious of Seasons." German-style springback with pages of Mohawk Superfine painted with acrylics and photocopied with reproduction maps of England (found online at <http://www.old-maps.co.uk>), then illuminated with Pilot metallic markers. Hahnemülle, Ingres, and Moriki endpapers. Headcaps of maroon denim around braided core. Sewn on three linen tapes. Acrylic-dyed canvas spine with Claire Maziarczyk paste paper panels and a laser-printed acrylic-dyed paper label. 16.5 x 14.5 x 4 cm. Bound 2004.
Technique learned from Peter Verheyen's and Donia Conn's online instructions originally published in "The New Bookbinder," 2003.
---
Alice Austin, Philadelphia, Pennsylvania, USA
English-style springback covered in ¼ green leather with pastepaper sides. 50 x 29 x 4 cm. Bound 2004.
Technique learned from Richard Baker at the Guild of Book Workers Seminar on Standards of Excellence, 2003.
---
Pamela Barrios, Orem, Utah, USA
The mechanics of this springback reflect Richard Bakers demonstration at the Guild of Book Workers Seminar on Standards of Excellence in Hand Bookbinding in Denver CO, with a few references to Vaughans 1929 classic, Modern Bookbinding. The new purpose of this springback is to pop up the pop-up. The book measures 5.5 inches by 6.5 inches by 1.5 inches. Bound 2004.
---
Jana Brubaker, Pendleton, Oregon, USA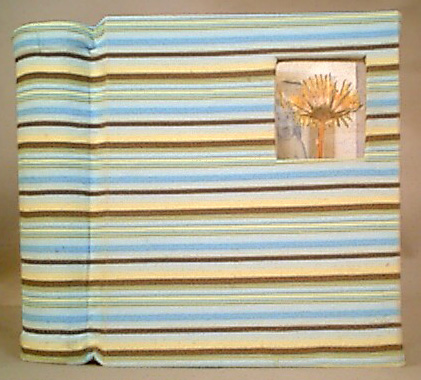 The English-style springback was the perfect binding for my next bookwork, which examines our valuing of little girls, both in our society overall and, more closely, within our families. Working title: "Isn't She Precious." The textblock interweaves Hahnemuhle Bugra with cheap, recycled ledger paper. The text will intersperse photocopied prose with letterpress-printed "grocery lists" of words related to the de/valuing of little girls. Imagery will combine/layer cyanotype printing with halftones. Covered in a Lycra/cotton fabric of the sort typically associated with bathing suit bottoms forever in need of tugging down, the horizontal stripe in the fabric harks back to the horizontal banding frequently used in the spring-back's original purpose as a ledger binding. Robust boards house a dandelion (yellow in the front cover; at its wish stage in back) pressed between layers of Plexi: Is she a weed, or a flower? 21.5 x 20 x 6 cm. Bound 2004.
The springback, with its ability to lay flat when open and allowing writing access into a narrow spine margin, makes an ideal choice for a guestbook, particularly for a Victorian-themed wedding. I've accented with hand-sewn headbands and an inset in the front cover revealing the wedding tissue. An extravagantly oversized grosgrain ribbon bookmark leads guests to the next blank page. Covered in Saikou Echizen washi on its 'reverse' side, the "plain brown wrapper" feel of this book opens to fiery orange fibers: endsheets of the right side of the same paper. The happy couple poses in Victorian period costume on a second set of endsheets in Magnani Pescia. 15.5 x 15 x 4 cm. Bound 2004.
Technique learned from Richard Baker at the Guild of Book Workers Seminar on Standards of Excellence, 2003.
---
Donia Conn, Skaneateles, New York, USA
German style springback "Mini." Leather with leather and alum-tawed on-lays. 6.5 x 4.8 x 1.7 cm. Bound 2004.
Technique learned from Peter Verheyen.
---
Willi Egger, Sambeek, The Netherlands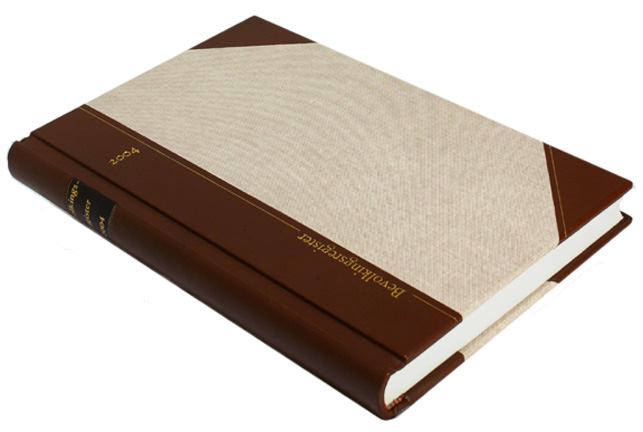 German-style springback. I got a pile of old original prints for a register used for the registration of persons from the teacher with whom I bound my springback. From these sheets the underlaying book was made. The design is kept very simple: half-leather binding with leather covered edges, natural-bookbinders cloth. The binding is built following the German-style springback. The spine carries a built-in label-field, where a black-goat-skiver label is placed. The front of the book is decorated with simple gold-tooling. 36.5 x 24.0 x 3.6 cm. Bound 2004.
Technique learned in the P. van Daalen, Handbookbindery Bronsgeest, Leidschendam, The Netherlands in 2002.
---
Karen Hanmer, Glenview, Illinois, USA
English-style, text block documents Keith Smiths "200 Books"; covered in ¼ tan goatskin with paper sides in material documenting 15 Italian pastries. 25 x 18 x 4 cm. Bound 2004.
English style, blank book, spine covered in ¼ salmon colored goatskin with embossed paper sides. 20 x 17 x 2.5 cm. Bound 2004.
English-style, dos-à-dos; spines covered in ¼ red leather with paper sides depicting photos of dancing couples courtesy of the Library of Congress. 24.5 x 19 x 7.5 cm. Bound 2004.
Learned basic structure from Richard Baker at the Guild of Book Workers Midwest Annual Meeting workshop in St. Louis, 2002.
---
Robert Hanmer, Glenview, Illinois, USA
English-style, text block from laboratory notebook; covered in ¼ dark green goatskin with raised bands on spine and marbled paper. 24.5 x 19.5 x 2.25 cm. Bound 2004.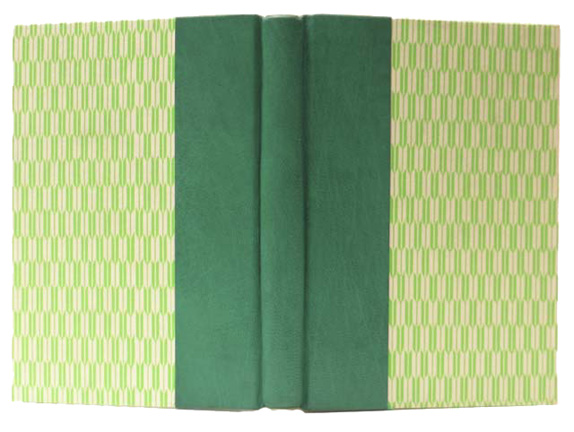 English-style, text block from inexpensive Chinese ruled notebook; covered in ¼ green goatskin with printed paper sides. 17.5 x 13 x 1.5 cm. Bound 2004.
Instruction from Richard Baker at the Guild of Book Workers Midwest Annual Meeting workshop in St. Louis, 2002.
---
Roberta Lavadour, Pendleton, Oregon, USA
"A Counting" – English-style springback, leather cover with double straight bands laced with deer vellum. 600 pages of 9 lb. Canary paper with painted edges. Inscription notes the multiplier for each of the 300 page spreads needed to equal the number of dead and wounded American soldiers and Iraqi civilians since March 2003. 7.5 x 7 x 2.5 cm. Bound 2004.
Technique learned from Alex J. Vaughan's "Modern Bookbinding" and Peter Verheyen's on-line draft of "The Springback in the English Tradition."
---
Linda Newbown, Canberra, Australia
"Keeping account of a Purple-dyed life." German-style springback account book. Cover papers, text papers and thread hand-dyed purple. Purple bookcloth spine, corners and headbands. Designed to be a journal for a vegetarian eccentric, so no animal products were used. 18 x 14 x 3.5 cm. Bound 2004.
Technique learned from Sally Rose.
---
Gregory Santos, New York, New York, USA
German-style account binding covered in pastepaper by Donia Conn and Strathmore paper with handmade paper endsheets. 7 x 8.5 x 2.5 cm. Bound 2004.
Technique learned from Peter Verheyen and Donia Conn at the Garage Annex School for Book Arts.
---
Cara Schlesinger, Faenwyl Bindery, Brooklyn, NY and Youngsville, NY, USA
"SpringBark," a 366-page year-round gardener's journal, incorporates natural material found in the woods around our house in the Catskills. Black cherry bark from a fallen branch covers the spine, its curve perfectly suited that of the springback's deep rounding. The cherry bark is sewn to Davie board covered with hand-peeled, cured white birch bark, with headcaps formed of a layer of birch covering the spring itself. Because of the split-board construction, the birch covering the boards was first turned in at the spine edge so the covered boards could be sewn to the cherry, then the stiff card was inserted in the split boards and the bark turned in on the other three edges. The endsheets and flyleaves are made of white birch bark laminated first on paper covered with gold leaf, and then on the 1-ply Bristol used for the text block.
"SpringBark" is a prototype extrapolated from the English style, as described in Peter Verheyen. I have also read as many other descriptions of the style as I can. I have no formal training, though I have learned much at the Center for Book Arts in New York City, particularly from Barbara Mauriello, Carolyn Chadwick, and Emily Martin.
---
Laura J. Thomson, New Orleans, Louisiana, USA
English-style springback covered in ¼ deep purple Nigerian goatskin and Japanese handprinted Chiyogami papers. Blind tooled with three raised bands. Text of Rives light weight white paper. 24.4 x 17.4 x 3.8 cm.
Technique learned from Bernard Houlton, Central Metropolitan College of TAFE, Perth, Western Australia.
---
Peter Verheyen, Syracuse, New York, USA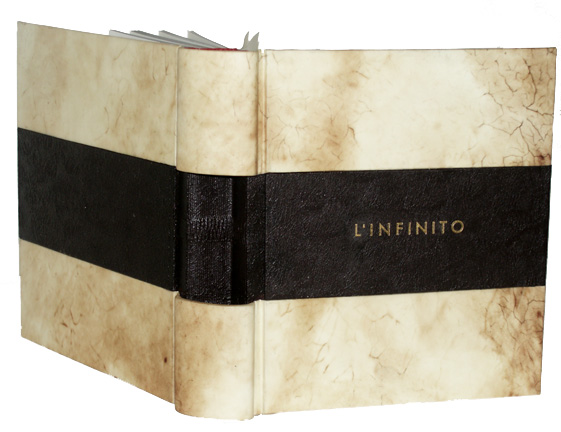 "L'Infinito," exhibition catalog to the Mostre Internationale Di Rilegatura D'Arte held in Italy, 1999. German-style; sewn on three tapes with endsheets of Roma paper; graphite top edge; red leather wrapped endband; covered with two veined calf vellum panels at top and bottom with center panel painted with textured acrylic; spine and sewing exposed in center panel and painted with textured acrylics; title stamped in gold. 28 x 25.5 x 6.5 cm. Bound 2004.
Technique learned during apprenticeship at the Buchbinderei Klein, Gelsenkirchen, Germany.