---
---
Please note that the archive starting 1/2019 is accessible to subscribers only. To gain access, click on link above and then using the email you subscribed under register a password towards the right hand side of the page.
ABOUT BOOK_ARTS-L
Effective June 1, Book-Arts-L will move to Emory University. All current subscribers will be moved to the new home with their subscription settings intact. Messages sent to the old Syracuse address will not be forwarded.
After June 1:
Subscribers, to post a message send to: book_arts-l@listserv.cc.emory.edu


Full FAQ with detailed instructions

Put ALL commands in body of message and send to: listserv@listserv.cc.emory.edu

To Subscribe send:
subscribe Book_Arts-L "Your full real name"
Leave out the "" . All subscription requests must include the full real name or they will not be approved by the moderator.

For daily digest: set Book_Arts-L mail digest

To unsubscribe: unsubscribe Book_Arts-L
Edelpappband / "Millimeter" Binding Bind-O-Rama
Entry Guidelines
Following on the success of Spring[binding] Hath Sprung, a Bind-O-Rama celebrating the springback binding, we now announce the the second annual Bind-O-Rama which will celebrate the edelpappband, or as "millimeter" binding as it is called in the United States.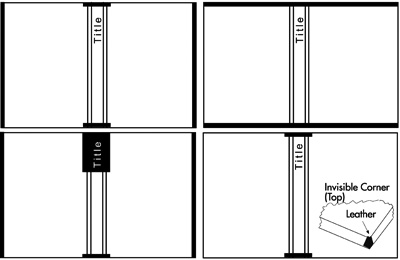 What we call the "millimeter" binding in North America is a "nobler" version of the German "pappband," or paper binding, hence the name "edelpappband." The technique is based on the German case (Bradel) binding which is covered in paper. What distinguishes the technique is that cloth, leather, or vellum trim is added to the head and tail, foredges, and/or corners for greater durability, making the book more elegant at the same time.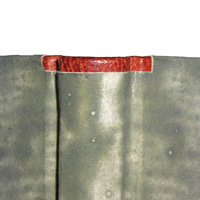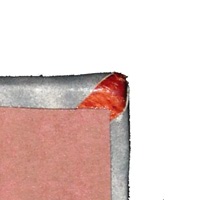 In Denmark, a variant with the leather trim running along the entire length of the head and tail is referred to the Rubow binding after the librarian who suggested it, but in essence they are all variations on the same technique which can be developed even further.
All varieties can be made "in-boards" or as case bindings, instructions for the cased version of which follows. The style is an ideal introduction to working with leather as only small amounts are needed and scraps can easily be used. And, while the structure is rather simple, and the style an ideal introduction to working with leather, a well-crafted binding in this styles requires precision, well balanced proportions, and exacting attention to detail
This style of binding is well suited for smaller, thinner, books, and with the right proportions creates an extremely elegant binding suitable for editions as well as one-of-a-kind bindings.

Links to other examples
Instructions:
A tutorial providing step-by-step instructions (the only ones published in English) was recently published in the Bonefolder, Vol 1, No. 2, 2005, can be found here as a PDF file [267kb). Other sources can be found in the bibliography below.
Entry & Submission Information:
Two digital images (640 x 480 pixels @ 72dpi, jpg file format) of your edelpappband / "millimeter" binding:

Images must show:

Detail of an aspect of the trim.

[E.g., detail of leather trim at head and tail]
Files should be named as binder's name-1.jpg... (e.g. verheyen-1.jpg, verheyen-2.jpg)
Images must meet these guidelines to be accepted, and be of good quality.

A very brief description including:

Binder's Name
Location (City, Country)
Description of design (including materials and location of trim used)
Dimensions (Height x Width x Thickness) in cm
Instructor / Where learned
All information must be included to be accepted

Maximum Number of Entries:

Entry Fee:

NONE - This is for the greater glory of the edelpappband/"millimeter" binding.

Entry Deadline:

To Enter:
Entries have been compiled into an online catalog, which is viewable here on the Book Arts Web as well as in the Bonefolder.
Selected Bibliography
The Edelpappband, or "Millimeter" Binding:
Henningsen, Thorwald. Das Handbuch für den Buchbinder. Stuttgart: Max Hettler Verlag, 1969.
Lüers, Heinrich. Das Fachwissen des Buchbinders. Stuttgart: Max Hettler Verlag, 1943.
Moessner, Gustav. Die Täglichen Buchbinder Arbeiten. Stuttgart: Max Hettler Verlag, 1969.
Wiese, Fritz. Der Bucheinband. Hannover: Schlütersche Verlagsanstalt und Druckerei, 1983.
Zahn, Gerhard. Grundwissen Für Buchbinder. Itzehoe: Verlag Beruf + Schule, 1990.
Danish Millimeter Binding:
Rosenberg, Barbara. Millimeter Binding: A report on John Hyltoft's Workshop. New York: The Guild of Book Workers
Journal, Vol. XXXIV, No. 1.
Priem-Nielsen, A.V., Larsen Knud Erik, Johs. Hyltoft. Den Håndindbundne Bog. København: Forening for Boghaandværk
Ny Nordisk Forlag, Arnold Busk, 1970.
German Case and Bradel Binding:
Denninger, Johann C. The "temporary" Binding of Alexis Pierre Bradel. London: Designer Bookbinders, The New
Bookbinder, Vol 16, 1996.
Roberts, Dr. Brian A. Herstellung der Einbanddecke (German- style case construction). Toronto: Canadian Bookbinders
and Book Artists Guild, Canadian Bookbinders and Book Artists Guild Newsletter, Vol. 10, No. 2, Summer 1992.
Young, Laura S. Bookbinding & Conservation by Hand: A Working Guide. New Castle, DE: Oak Knoll Press, 1995.
Zeier, Franz. Books, Boxes, and Portfolios. New York, NY : Design Press, 1990.
See also the titles mentioned in the "Edelpappband, or 'Millimeter' Binding" section.
Endbands / Edge Decoration:
Greenfield, Jane and Hille, Jenny. Headbands: How to work them. New Castle, Delaware: Oak Knoll Books, 1990.
Mitchell, John. A Craftsman's Guide to Edge Decoration. Sussex, UK: Standing Press Ltd., 1993.
See also the titles mentioned in the "Edelpappband, or 'Millimeter' Binding" section.