---
---
Please note that effective 4/2/2019 the archive is accessible to subscribers only. To gain access, click on link above and then using the email you subscribed under register a password towards the right hand side of the page.
ABOUT BOOK_ARTS-L
Full FAQ with detailed instructions

Put ALL commands in body of message and send to: listserv@listserv.syr.edu

To Subscribe send:

subscribe Book_Arts-L "Your full real name"

Leave out the "" . All subscription requests must include the full real name or they will not be approved by the moderator.

To post a message send to: Book_Arts-L@listserv.syr.edu

For daily digest: set Book_Arts-L mail digest

To unsubscribe: unsubscribe Book_Arts-L
Welcome to the 2009 Bind-O-Rama
Initiated in 2004, the Bonefolder's Bind-O-Rama challenge and online exhibition have become an annual event. 2009 is no exception and this year we elected to make it an open, i.e. un-themed event. This year 48 entries were received, a record number, with participants ranging from seasoned professionals to first-time exhibitors. Adding to the excitement this year was a very wide range of structures.
All 48 entries are being shown online here, with 25 selections curated by Karen Hanmer and Peter Verheyen shown in the Fall issue of The Bonefolder due to space constraints - it is a very full issue.
Thank you to all who participated and made this, our 6th, Bind-O-Rama a huge success.
---
Alicia Bailey, Aurora, CO, USA
Mica. The text block of this book is made up of printed pages wrapped with handmade abaca paper with inclusions of paint, thread and mica. The wrap-around format exposes only glimpses of each interior page unless the wrapper is opened. Pages are sewn onto tapes; text block is cased in via a split-board variation. Text is a series of anecdotes about various quests for mica. Front cover is milkpainted, multi-dimensional wood with original painting behind mica. The inside back cover has recessed area with metal, wire and mica. Written, designed and produced by Alicia Bailey with contributions from Heidi Zednik. 20.3x13.3x3.2cm.
I have a BFA in Studio arts and 30 years studio experience. I work in a variety of mediums; my work bridges multiple disciplines and quite often ends up in the creation of a book.
Eric Alstrom, Okemos, MI, USA.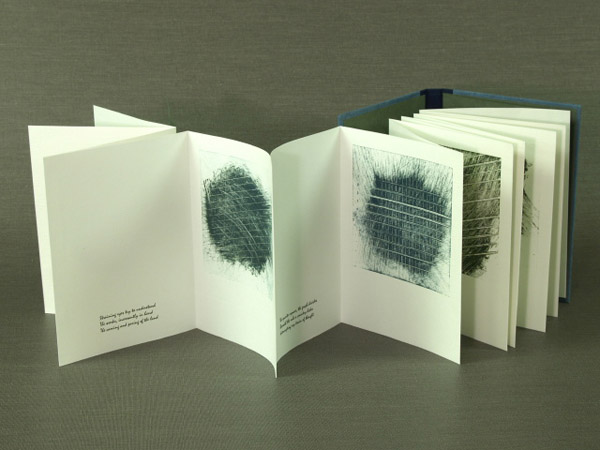 Map Ref 41ºN 93ºW. Text is the lyrics from the Wire song of the same name (taken from their 1979 album "154"). Images convey the neat grid patterns humans overlay on a very un-grid-like world. The text set in Mistral, laser-printed on Lana Laid paper. Vinyl print monotypes done in oil on a Vandercook. The binding is the False Accordion created by Sandra Reese. Panel cover made from blue Cialux cloth spine, blue Hahnemuhle Bugra and laser printed title on front cover. 17cm x 12cm x 1.5cm.
Eric Alstrom has been involved with the book arts since 1989. He studied under James Craven and also at the Bessenberg Bindery in Ann Arbor, Michigan. He has taken workshops from many bookbinders and artists, including Hedi Kyle, Gary Frost, Tom Balboa and Cecilia Frost. Eric is head of conservation at Michigan State University Libraries and the binding instructor for MSU's book arts program. He also teaches conservation, binding and book arts workshops locally and nationally. For further information, please visit Eric Alstrom | BookWorks at http://webalstrom.ftml.net/bookworks.
Alex Appella, San Antonio de Arredondo, Córdoba, Argentina.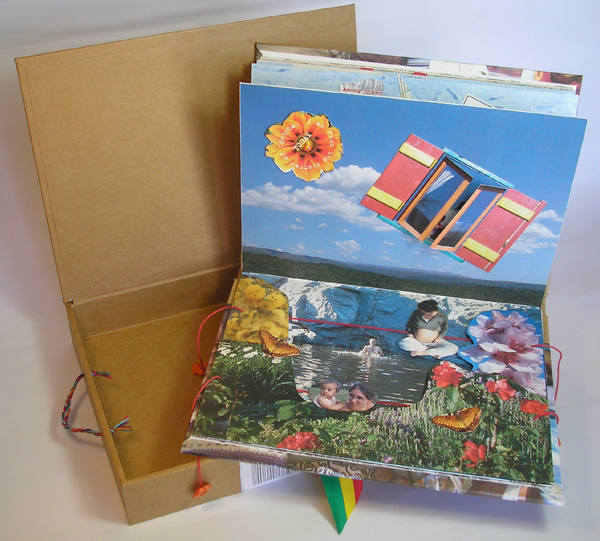 Where Are You From? As an Oregonian living in Argentina, not a day goes by that I am not asked, "Where are you from?" – in the grocery store, paying bills, getting gas. I am heartened that my accent has improved: most of the askers assume I am from Brazil. But it is an accent nonetheless, and the question is constant. It is a notable opportunity for self-reflection. Over the last eight years, the answer has evolved significantly. The artist book, Where Are You From? allows the reader to explore my responses through collage that utilizes pop-up construction and moveable parts: car trunks must be lifted, draw strings must be pulled, flowers must be spun, windows must be opened-there are even pockets that must be emptied. Each turn of the page invites participation. Where Are You From? is housed in a travel trunk and its cover depicts the inside of an over-stuffed suitcase. 8 full color digitally produced collages/pages sewn onto linen tapes. Flat back binding. Pages are printed on Colorspot Nieve paper, 220 gram. Each book housed in its own "trunk". Printed on an Epson Ink Jet Printer using archival inks. 16.5 cm x 21.6 cm x 3.8 cm.
All bookbinding knowledge is self-acquired through necessity, trial and error, observation, and books on bookbinding. http:// www.transientbooks.com.
Whitney Baker, Lawrence, KS, USA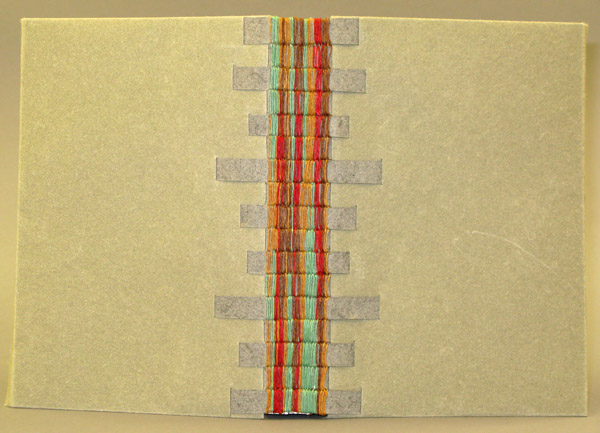 Twined binding, with Cave Paper twining supports and sides and Crawford Irish linen thread in ochre, mint green, red, and brown; modified limp paper case corners. 23 x 15.5 x 3.5 cm.
MLIS in library and archives conservation, University of Texas at Austin; further training at the Iowa Center for the Book and the Library of Congress; currently conservator for University of Kansas Libraries
Olaya Balcells, Santiago, Chile.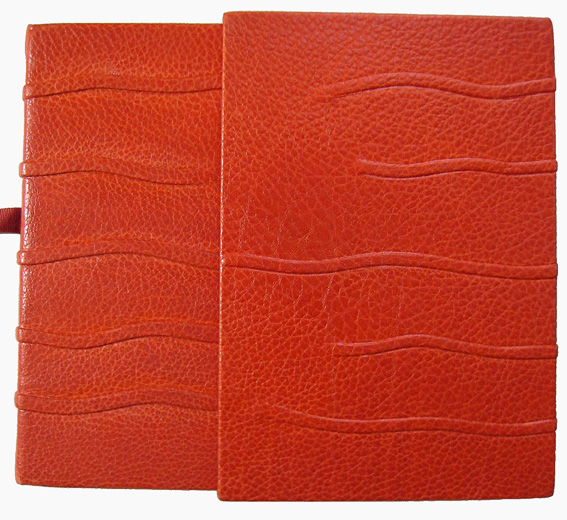 Estelario, Ignacio Balcells, Beuvedráis Editores, Santiago, Chile, 2007.
One of a kind bookbinding. Book: case binding, sewn in three linen tapes; handsewn silk headbands and handmade paper endsheets. Book and box: full Relma calfskin (karabú: calf neck skin) over boards with embossed-"tapes". Book dimensions: 25 x 18 x 2,5 cm.
Graduate student in the book and paper conservation program at the Istituto per l'Arte e il Restauro Palazzo Spinelli, Florence, Italy. Internship in bookbinding and bookbinding conservation at National Library of France; trained in paper and book conservation at the NEDCC, Boston, USA.
Margaret Beech, York, UK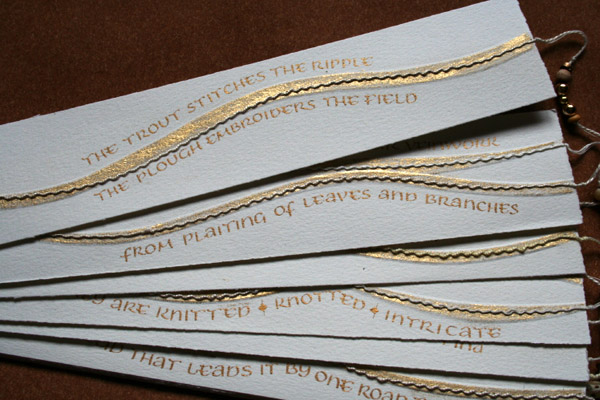 Palm leaf book; Waterford 190lbs HP; gold gouache; metal nib, stitching, threads, beads. 33 x 5 x 1 cm.
Member of North Redwoods Book Arts Guild, CA, USA and founder member of Quarto - bookartists in Northern England, UK.
Sue Bleiweiss, MA, USA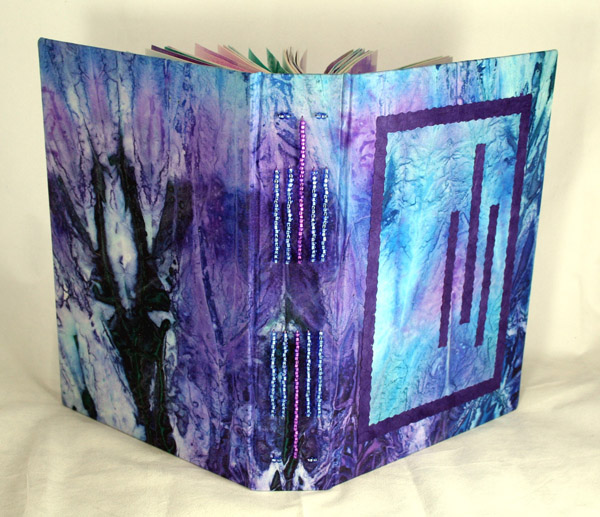 Hand-painted silk fused to tissue paper and then glued to book board. Collage on cover of purchased mulberry paper and hand painted silk. The inside has a combination of hand painted and blank pages. Glass beads along spine. 22.9 x 15.2 x 3.8 cm.
Self taught with no formal training in bookbinding/book arts. I currently teach classes in book and box making as well as surface design at the Danforth Museum of Art in Framingham Massachusetts and also offer online classes in both through my http://www.twocreativestudios.com website.
Velma Bolyard, Canton, NY, USA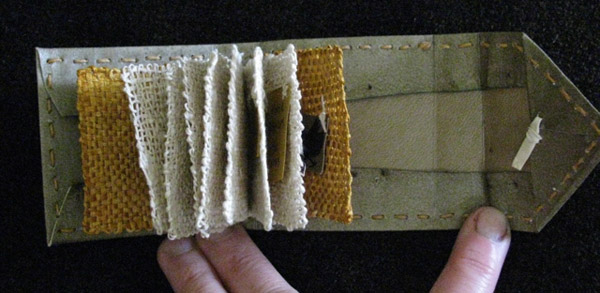 This Day. Binding in dyed vellum, with two spine tackets and braided linen closure wrapped around a vellum button; pages are 4-selvage shifu (spun and woven paper) of lokta paper with vellum for the hand written ink text of a poem. they are sewn with linen on two vellum tapes which are tacketed to the spine. 6 x 6 x 11/2 cm. Collection of Owen D Young Special Collections Library at St. Lawrence University.
Eclectic binding training from various workshops including Jim Crofts old ways, visual studies workshop, and 2 Paper Book Intensives (PBI. Recipient of Nell Mendell scholarship to PBI, and have received a NYSCA SOS grant. BS in design and textiles, and a masters and certification in elementary, art, and special education. Her hand paper mill is called Wake Robin.
Pauline A. Braun, Winnipeg, Manitoba, Canada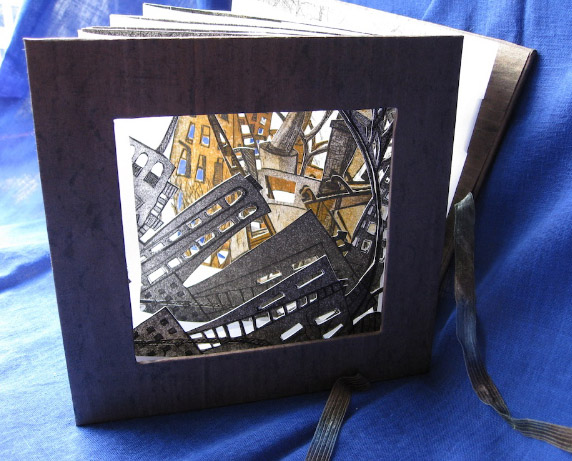 Tunnel Book - The intaglio prints within the book are pulled from two etched copper plates. The front and back boards are covered with paste paper. The accordion folded side panels are vellum. The book measures 15 x 15 x 45 cm (extended).
I have no formal education or training in bookbinding/book arts.
Bexx Caswell, Medford, MA, USA
Leaves of Grass by Walt Whitman; Illustrations by Jim Spanfeller. Hallmark, 1969.
Rubow style millimeter binding with black Harmatan goatskin at the head and tail. rolled leather endbands, handmade paste paper, black Fabriano Ingres endsheets. The paste paper was created especially for this binding, with the intent of capturing the feel of the book's illustrations without mimicking them. 19.5 x 11.8 x 1.3 cm.
Trained under Mark Andersson and Jeff Altepeter at the North Bennet Street School. Also holds an M.S. in Library Science with a focus in Preservation Management from Simmons College. Recently served at the Lennox Preservation Intern at Iowa State University.
Linda M. Cunningham/Lasqueti Pres, Calgary, AB, Canada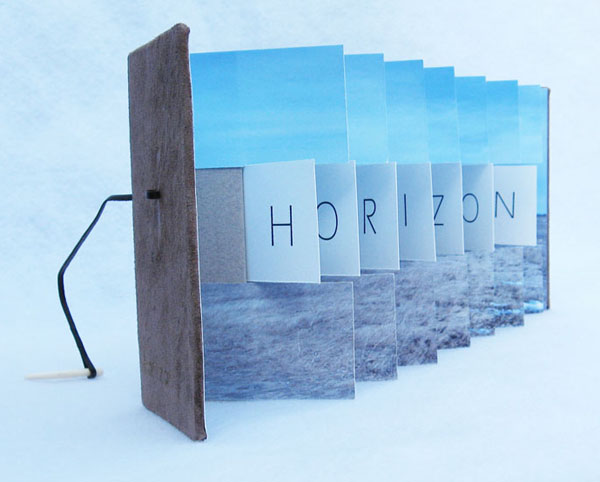 Horizon.Flag book with deerskin cover; goatskin lace and wooly mammoth ivory closure; Fabriano Ingres paper spine; inkjet-printed Canson Rag Photographique 210 gm flags; hide and PVA glues; double-sided permanent Scotch tape. 8 x 13 x 1.5 cm (closed), 69 x 13 x .25 cm (open)
An internationally exhibited installation and fibre artist, with a Master of Environmental Design degree from The University of Calgary, Linda has supplemented her experimental approach to artists' books by partaking in formal studies with Don Rash.
David Damico, LeRoy, NY, USA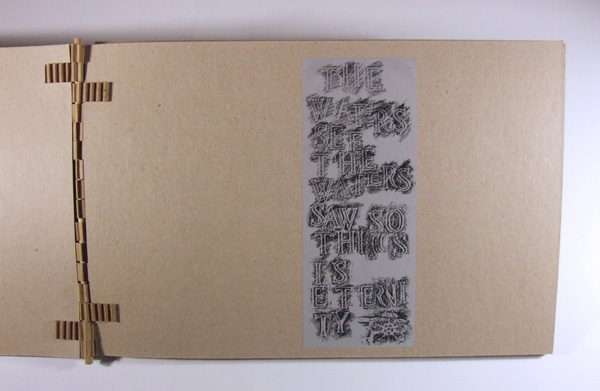 Typographic and graphic interpretation of select Jack Kerouac Pomes. Materials include 4 ply chipboard, one sided corrugation, and adhesive. Printing methods include tombstone rubbings, brush calligraphy, shadow projections, stenciled spray paint and laserprinting of scanned handwritten text onto craft paper. 30.5 x 47 x 1.3 cm.
A recent MFA graduate from the University of Houston in Graphic Design and Studio Arts. Faculty inspiration by Beckham Dossett and Cathy Hunt.
Karen Esteves, Boca Raton, FL, USA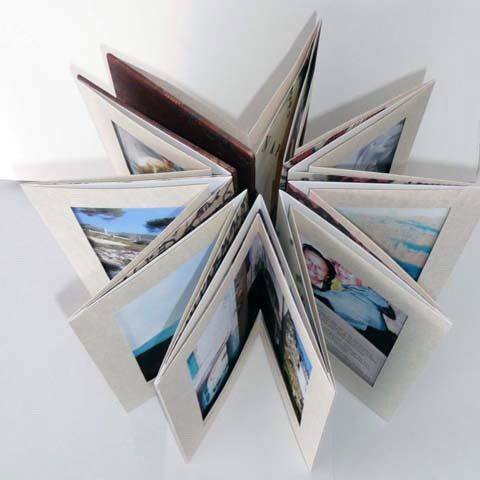 The Memory Keeper was inspired by the many long, and sometimes hair raising, miles spent traveling in the Italian mountains of Tuscany. Moments of reflection were predictable as I examined "then" and "now" times of our lives. Also inevitable – the carousel book format, representing life as a circle and a "star" from above. Italian marbled paper & Epson R1800 ink jet printer. 17.8 x 12.7 x 3.2 cm.
MFA in graphic design; attended PBI in 2007, OBAG – Portland, OR – 2005 Numerous workshops through either the PBI-2007, Bienes Center for the Book, Broward County Main Library, Fort Lauderdale or the Jaffee Collection, SE Wimberly Library, FAU, Boca Raton, FL.
Patricia Grass, Forest Grove, OR, USA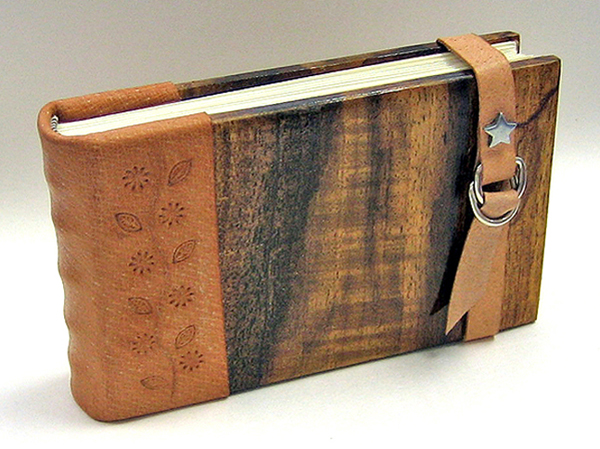 Steep Trails: Writings About Oregon by John Muir. Sewn on cords, laced on covers made of myrtlewood, native to Oregon, spine covered with hand tooled calf, pre-sewn headbands. The book was designed using the page layout program Ready, Set, Go on a Macintosh G5 computer and printed directly from the computer on a Konica Minolta Color Copier on Mohawk Superfine paper. The typeface is Caslon, the initial letters are Caslon combined with reworked clip art letters from Dover. The photographs are by the binder and her family. The design of the book incorporates Muir's writings from the late 1800's with comments by Lewis and Clark from the early 1800's and modern day photographs of Oregon. The book was produced in an edition of 25 . 2009 marks the 150th anniversary of Oregon. 8 x 13.5 x 2.5 cm.
BA in Biology, MS in Education, BFA in Painting. My bookbinding education comes from classes and workshops at Oregon School of Arts and Crafts in the 1970's and 80's (before it granted degrees) and workshops with various teachers and conferences such as the PBI and Guild of Book Workers.
Shirley Greer, Pasadena, Newfoundland, Canada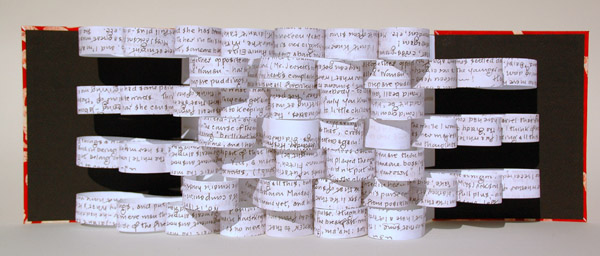 Gossip. Modified flag book with bookbinding board, paper, glue, tape; digital inkjet printing. 15 x 45m x 7c m (open).
I will graduate with a Master of Arts degree, specializing in book arts, from the Department of Creative and Performing Arts at the Waterford Institute of Technology, Waterford, Ireland, in October of 2009. BFA specializing in printmaking from Sir Wilfred Grenfell College/Memorial University of Newfoundland, Corner Brook, NL in 2003. I also participated in letterpress and polymer plate workshops at the Center for Book Arts in New York in April 2009, as well as a bookbinding workshop with Susan Mills at NSCAD in Halifax, Nova Scotia. My artists' books have been exhibited in 2009 in the Shelter exhibition; text – 5th International Artist's Book Triennial, Lithuania; The Sheffield Artists' Book Prize Exhibition; and BookOpolis.
Dolores Guffey, Eureka, CA, USA
My hand marbled paper adorns the front cover of this blank book. The book was sewn on tapes using a stitch shown in Bookbinding and the Care of Books by Douglas Cockerell (1925 edition). I thought the sewing pattern too attractive to hide behind a spine (the purpose of the stitch is to avoid undue looseness in the sewing processes), so I made it part of the overall design of an exposed spine binding. Each signature was wrapped with a 1 inch wide strip of marbled paper to give the spine a more decorative appearance. 14.5 x 11 x 2.5 cm.
I have been a marbler since 1976 and am one of the founding members of the North Redwoods Book Arts Guild (founded in 1995 by Shereen LaPlantz and others). I enjoy teaching and have taught numerous book arts workshops in California and Oregon.
Karen Hanmer, Glenview, IL, USA
A selection of poems on the theme of Water, Incline Press for Designer Bookbinders, 2008.
French technique fine binding: sewn on flattened cords laced into boards, covered in full goatskin. Design of multiple water molecules executed with leather inlays and onlays in a variety of techniques. Edge-to-edge doublures, suede flyleaves. Hand sewn silk headbands, graphite top edge. Tooling in white gold leaf. 27 x 20 x 2 cm
Study with Scott Kellar, Monique Lallier, Priscilla Spitler, and generous technical support from her colleagues on The Bonefolder editorial board. Hanmer also serves as Exhibitions Chair of the Guild of Book Workers. Website at http://www.karenhanmer.com.
Mary Jane Henley, Tucson, AZ, USA
I love Julie Leonard's stiff-leaf book fifty-two words that I first saw in her 2008 workshop at Penland. Using her instructions in The Penland Book of Handmade Books, I designed a very similar structure, modifying it with pamphlet-stitched printed canvas between the stiff pages. The text of Obama's inaugural address is printed on the canvas pages with an Epson Photo R2400. The stiff museum board pages, covered in Asahi bookcloth, feature recessed photos by Tristan Brand of people watching Obama's inauguration from Times Square. Painted Tyvek shows through holes punched in the spine covers to suggest the image of an American flag. 11 x 11 x 17 cm.
I am fortunate to be in an ongoing program of study with Mark Andersson, and I have taken workshops with other wonderful teaching artists and binders, including Julie Leonard, Laura Wait, Karen Hanmer, Sage Reynolds, Carol Barton, Shawn Sheehy, Daniel Essig, and Curt Dornberg.
Paula Jull, Pocatello, ID, USA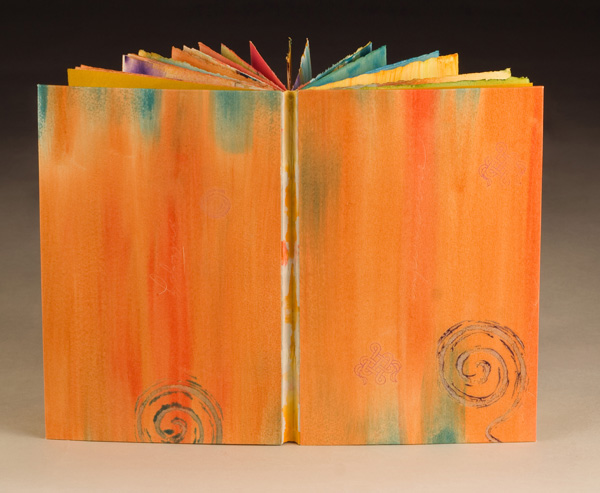 Entropy. Sewn Boards binding with paste papers. 21 x 14 x 1.6 cm.
MFA in Fine Arts, printmaking at Indiana University, and many professional workshops since 1993, at least one per year. I also have attended Paper and Book Intensive 15 times.
Jamie Kamph, Stonehouse Bindery Lambertville, NJ, USA
Ulysses by James Joyce. Bound in tan Oasis goatskin with design of interlocked bodies outlined in (onlaid) blue goatskin. Gold-tooled border and titling on spine. Marbled endpapers; original paper covers bound in. 24 x 18 x 5 centimeters. Bound 2008.
Trained under Hope Weil in NYC.
Joanne Kluba, St. Louis, MO, USA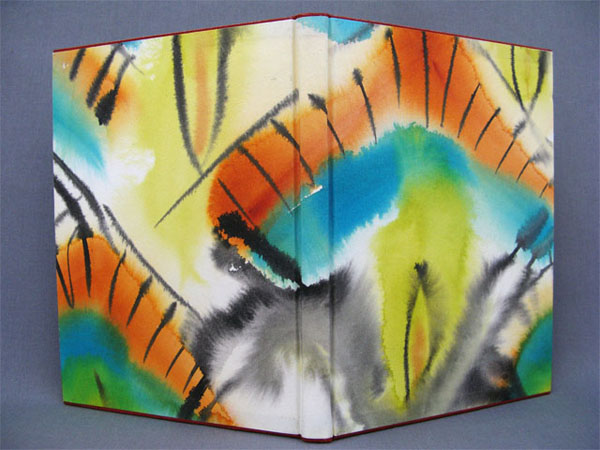 Millimeter binding with goat leather trim; Acrylic Ink painted Arches text wove paper with Mohawk Superfine text pages, a lined journal printer on a laser printer. 21 x 15 x 1 cm.
Joanne Kluba has been binding books since 1993, when she began studying with Richard Baker, Conservator, in St. Louis. Joanne has attended the Paper and Book Arts Intensive 2 years (so far). Joanne has a BFA in Printmaking from Webster University, St. Louis, along with professional Graphic Arts experience (15 years). Joanne runs a small bookbinding and book arts business called Paper Birds since 2002, where she creates fine custom books and boxes, preservation boxes, and art books. She teaches at her studio and at Craft Alliance, in University City, Missouri.
Kelly O'Brien, Alexandria, VA, USA
Pairings was a study stiff leaf bindings in six small books of hand printed and sewn handmade papers. Stiff leaf binding, handmade paper, thread, machine stitching, Plike paper, paste papers and block prints. For more images: http://www.turningpointepress.com/craft/pairings/. 10.16 x 9.525 x 1.27 cm closed.
Since discovering the book arts in 2006, I have been a serious student of them. Studies include papermaking and printmaking at Pyramid Atlantic and Torpedo Factory (Alexandria, VA), binding with Eileen Wallace and box making with Julia Leonard at Penland, and artist books with Susan King at Shakerag Summer Immersion (Sewanee, TN). Additional learning includes conferences and events through Friends of Dard Hunter, Guild of BookWorkers and PCBA.
Roberta Lavadour, Pendleton, OR, USA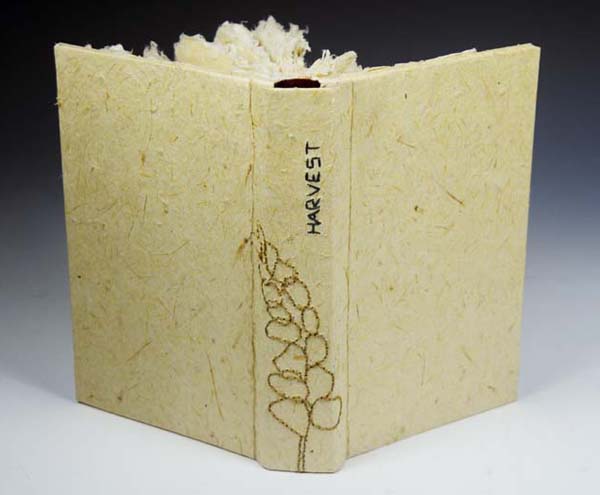 Handmade paper crafted by the artist from wheat stalk with abaca, bound in a sewn board binding with silk embroidery and gold leaf. 14.5 x 9.75 x 2.5 cm.
Bookbinding/book arts learned through ndependent study and workshop instruction. Mission Creek Press - Desultory Press http://www.missioncreekpress.com.
Carolyn Leigh, Tucson, AZ, USA
House of Cards 08.04.08. 24 tablet cards in a clamshell box plus a slipcase. Made from acid free recycled book papers and binder's board painted with acrylics, finished with Renaissance Wax. Each tablet approximately 10.7 x 7.6 cm and housed in clamshell box and slipcase.
I am primarily self-taught with bookbinding and box making courses from Curt Dornberg, a flag book workshop from Karen Hanmer and letterpress printing in the 1970's.
Susan L. Lin, Location: Sugar Land, TX, USA
I'm Sorry, But We're Closed was created based on the idea that all literature is inspired and influenced by the books that came before it. The text on the outside and inside covers is a short selection from a monologue I wrote about a girl who, in her twenties, sits in a room brimming with books, memories, and ghosts from her childhood. On the accordion spine are miniature versions of existing books by writers such as Nick Flynn and James Joyce, complete with quotes that were particularly influential to me while creating this work. It was printed with an inkjet on book cloth, binder's board, cardstock, and photo paper, then bound as a flag book. 22.5 x 16 x 1.75 cm.
Studied Book Arts at the University of Houston, where I recently completed my B.A. in English.
Barbara Maloutas, Los Angeles, CA, USA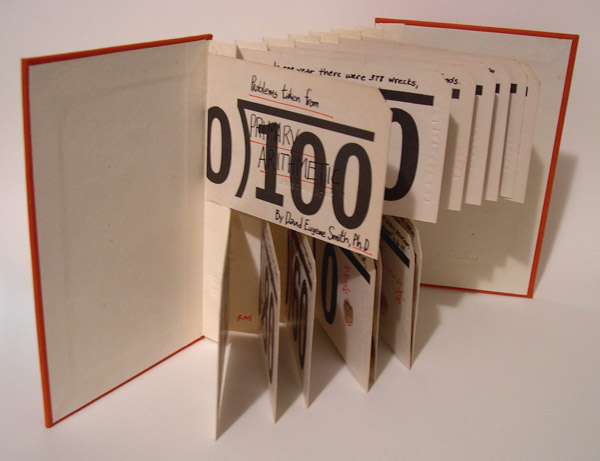 Basic Division Facts. Hardbound flag book, accordion spine, found flashcards, handwriting, and metal stamping. Keeping the book's numbering without regard to chapters, I hand-wrote arithmetic problems from Primary Arithmetic by David Eugene Smith, Ph.D., published in 1904. The problems were handwritten in black. I calculated and hand-wrote the solutions in red and indicated the solutions by circling them. When the answer was correct, I filled in a golden circle by hand. All calculating occurs on division flashcards. Words from and commentary on the textbook are hand-stamped on the flash cards and debossed. 175 x 120 cm.
1972: BFA: University of the Arts in Graphic Design 1994: studied Book Arts with Carolee Campbell at Otis College of Art and Design 2003: MFA: Otis College of Art and Design in Creative Writing
Charlene Matthews, Los Angeles, CA, USA.
Loaded (Dream Holes/Faye in L.A.). Black Pergamenta goat covered boards, pin-hole photo and window screen on-lays, wire and blind tooling. Pin-hole images with digital alteration/silkscreen alteration/darkroom alteration/spray paint alteration on full size Frankfurt white paper. 10 window screen signatures undersized (edges sewn with yellow pyro-lace) 10 hand typed signatures undersized (Faye in L.A.) with collage pasted and sewn throughout. Sewn on split vellum thongs, split boards, handmade paste paper paste-downs, cloth hinges with wire attachments. 9x11" Artist Proof of an edition of 5.
Charlene Matthews is a full time bookbinder, working in restoration, box making, art fabrication and book arts. Her work can be found worldwide. She is also crazy about her oatmeal box pin-hole camera. Website at http://www.charlenematthews.com.
Anna Mavromatis, Houston, TX, USA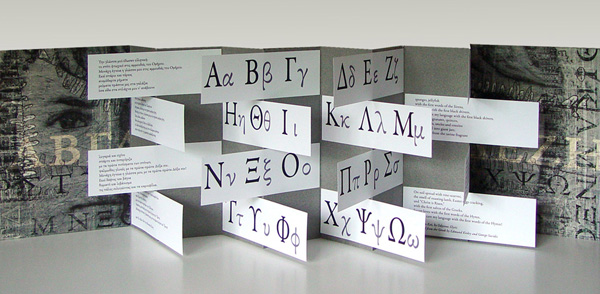 The language they gave me is a flag structure alphabet book. I used my native language's Greek alphabet and verses from a poem by Odysseus Elytis and the english translation by Edmund Keeley and George Savidis. I feel these verses express something I have experienced most of my life, since the day I left my homeland: the importance and emotional priority we give to our language; for me this alphabet is also an iconic representation of my roots. Flag structure, mixed media, archival pigmented inkjet prints Covered in Rives lightweight, spine: Strathmore 400 series, flags: Epson heavyweight. Closed: 21 x 16 x 2 cm, open: 21 x 85 cm.
Bookbinding training from the Glassell School of Art, MFA Houston
Rhonda Miller, Halifax, Canada

An edition of 30 books handbound for Nine Point Publishing (Maine). "Water" is a collection of poems by George Erikson. Flat Back Binding with a wrap-around Japanese-style case. Japanese cream bookcloth with blue Canson Mi-tientes endsheets. Bone clasp on case. Printed by Cardinal Printing (Maine).
20.5 x 15 x 2.5 cm.
Background: Training received though courses and workshops including two sessions at Paper and Book Intensive (Arrowmont and OxBow) as well as courses at the Dawson Printshop (Dalhousie University) with Joe Landry and Stephanie Dean Moore and workshops at Nova Scotia College of Art and Design, with Susan Mills.
Hanne Niederhausen, Boca Raton, FL, USA
The Three Goals, etchings, poem by David Budbill, silkscreened cover paper, cloth connected hardcovers. 22 x 12.5 x 1 cm.
BFA with the area of concentration in printmaking at Florida Atlantic University, book arts workshops at the Jaffe Center for Book Arts in Boca Raton, FL and the Bundesakademie in Wolfenbüttel, Germany.
Marie Philomena Noorani, Richland, WA, USA
Coffee Book (Blank Book). Tight back binding on raised cords. The back cover features acollage of old coffee shop receipts and coffee stains; front cover features black painted aluminum with coffee bean repousse, the spine "coffee proof" imitation leather (100% cotton with coating). 21.6 x 14 cm.
I am a self taught bookbinder having learned from several instructional texts and through trial and error. I have been binding for four years working with a wide array of materials in a variety of formats.
Jim Norton, Athens, GA, USA
Pinwheel Book. Etched Copper with Patina. 18.5 x 18.5 x 1.5 cm.
MFA University of Georgia in Jewlery & Metals 2007.
Jenny O'Grady, Baltimore, MD, USA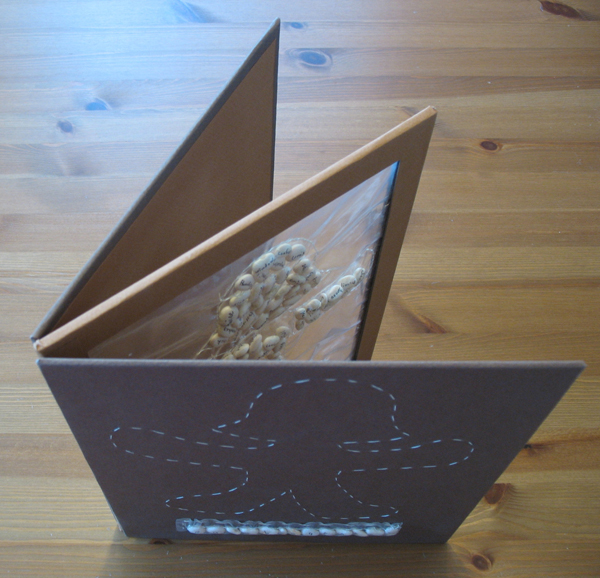 Autobiography is made with binder's board, paper, plastic baggies, cotton thread and dried baby lima beans. The beans are sewn into the baggie plastic in the shape of a woman; the pattern is repeated on the cover. Each bean contains a hand-printed word representing the ideas that shape me. One blank bean is centered in the belly, representing my problems with infertility. In some ways, I consider Autobiography to be a free-form poem, one that could be interpreted differently by each reader as the beans shift. 28 x 23 x 1.25 cm.
I am largely self-taught. I studied one semester with Maria Barbosa of Pyramid Atlantic. I earned an MFA in Creative Writing and Publishing Arts from the University of Baltimore in 2006.
Jana Pullman, Minneapolis, MN, USA
Boards covered in blue goatskin over raised wave design with airbrush toning. Top edge decorated with sprinkled patterns. Sewn two color silk endbands. Title hand tooled in aluminum leaf. Chiryo gami printed endpapers. 27 x 19.5 x 1.8 cm.
Student of Jim Dast, University of Wisconsin-Madison, and Bill Anthony, University of Iowa. MFA in printmaking with an emphasis in book arts and papermaking. Worked for libraries and institutions in book and paper conservation and now I am in private practice.
Georg Rehage; Freiburg, Germany
Full leather binding (German case binding) from Guillaume Apollinaire, Alcools: Poems 1898-1913. Paris: Gallimard, 1959. Bound in goat skin with onlays in buffalo skin. Handtitled in white. Flyleaf of Annonay paper. The binding recalls cubistic forms – the poet and art critic Apollinaire had many friends among the cubistic painters; Picasso for example made a cubistic portrait of the author for the first edition of Alcools in 1913. Dimensions: 19,4 x 13 x 2,6 cm.
Georg Rehage has followed several bookbinding workshops in Germany and France. http://chienquiboite.over-blog.com.
James Reid-Cunningham, Cambridge, MA, USA
Guy Debord, Exercises in Psychogeography, Cambridge, MA, 2005. Excercises in Psychogeography was composed in QuarkXPress and printed on digital kozo paper using an inkjet printer and pigment inks. Each page is folded twice, requiring the reader to slowly unfold the text. It was designed and printed by James Reid-Cunningham, and each copy of the edition received a unique binding. This copy was bound with rubber, basswood colored with acrylics,nylon thread, copper, brass, blue goatskin. 8.2 x 10.2 x 6.3 cm.
James Reid-Cunningham studied bookbinding with Mark Esser at the North Bennet Street School in Boston. He is the chief conservator of the Boston Athenaeum, and president of the Guild of Book Workers.
Bob Roberts, Maryville, TN, USA
The goal was to use elements of the publisher's design in this fine binding, created as a presentation copy. It was rebound in heavily grained black morocco with beveled and rounded boards, double-core headbands in three colors, leather inner joints, and marbled endpapers. The lettering design of the spine was suggested by the original, as was the use of the triangle as a design element. A marbled triangle is inlaid into the front cover, recessed below the leather, and the triangle theme is repeated in the gold tooling around the inner dentelles. A wooden box lined with black velvet was created to house the book and uses black morocco, natural wood stained dark, and matching marbled paper, with the publisher's logo worked into its rounded spine. 23 x 17 x 7.5 cm.
Classes with Scott Kellar and the Chicago Hand Bookbinders, but largely self-taught. Binding since 1994, and currently proprietor of The Gilded Leaf: Fine Bookbinding and Restoration.
Beth I. Robinson, Cottage Grove, OR, USA
Persian rug pattern sewn in decorative stitch on spine of recontextulized found materials (I pulled apart one book and from it made this one with the box and everything but thread). 13 x 9.5 x 10.2 cm (in box together).
BFA from Oregon College of Art and Craft in Bookarts
Jana Sim, Chicago, IL, USA
Nesting Place, double sided variation on flag book with two tray box. Letterpress printed of building scene from photopolymer plates on grey paper and book cloth. Green tree and corn field printed on transparency paper from Laser printer.15 x 15 x 23 cm.
MFA in progress, Book and Paper program at Columbia College Chicago and received BFA in painting from University of Illinois at Urbana Champaign.
Barbara Simler, Kamloops, BC, Canada
Limp leather binding. Terra Cotta goatskin, sewn with tackets on pieces of green goatskin. Hook and eye closure. Canson text paper. 11 x 14.6 x 3 cm.

Barbara Simler is originally from Woodland, Idaho. Her education in book arts is mostly the result of her own investigations, and more recently she has also studied bookbinding with Jim Croft and Elsi Vassdal Ellis. For the past four years, she has owned and operated Moon Bindery, a book arts studio in Kamloops, BC, Canada. http://www.moonbindery.com.
Marilyn Stablein, Bosque Studios, Albuquerque, NM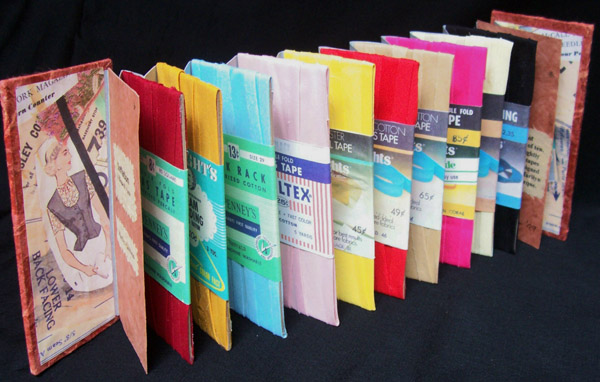 Inflation: A Biased View. Single layer flag book (accordion with attachments) with vintage multi-colored packets of bias tapes ranging in price from 8 cents to $2.35 (hence the "Inflation" title.) Various handmade papers, laser printed title page, colophon, and endpapers from an original collage of sewing ephemera in my collection. 14.5 x 6.5 X 5.25 cm.
Workshop with Hedi Kyle and Marilyn Chamber's Book Arts class at Santa Fe Community College. Other group study sessions with LIBROS: Albuquerque's Book Arts Guild and the Santa Fe Book Arts Group.
Eduardo Tarrico, Buenos Aires, Argentina
Stub binding in French construction. Hand painted leather decorated with raised and recessed onlays. Canson paper doublure and suede flyleave. Second Prize winner in Fine Binding category in the International Competition 2009 of The Society of Bookbinders. 24 x 16 x 2.5.
Bookbinder since 2001. Start the studies in Buenos Aires, Argentina. In 2006 travel to Spain to realize a workshop in the Camacho´s studio. Actually continues experimentation of structures and decorative techniques. http://www.todoencuadernacion.com.ar.
Mary Taylor, Marshfield, MA, USA
Chuño. Hand sewn over tapes binding, 80 pages with original images and text. Covers book board wrapped with inkjet printed onto paper backed polyester fabric, toned with walnut ink.
Pages inkjet pigment printed on archival matte paper, toned with walnut ink and copper and bronze pigments. Pages are filled with sepia toned photographs of Machu Picchu , scenes from the Sacred Valley Peru and combined with Taylor's original art images. The text relates the contemporary international significance of the lowly potato and its historic origins within the Andes. Created in an edition of 10. 19 x 13.25 x 2.5 cm.
My artistic training has come from years of daily immersion working with mentor, professional artist Dorothy Simpson Krause. Throughout the past decade I've managed Krause's studio and we've assisted each other in the development of processes. I love to experiment and expand my artistic training by taking workshops from other artists; Beverly Carreiro, Ana Cordeiro, Maureen Cummins, Shanna Leino, Peter Madden, Scott McCarney, Mary McCarthy, Sharon McCartney, Keith Smith, Donald Glaister, Stephanie Stigliano, Wendy Hale Davis, Marcia Ciro, Kitty Maryatt, and Laura Wait.
Carrie Valenzuela, Syracuse, NY, USA
Rust colored Iris bookcloth half-bound with printed paper. Bradel case binding. Sewn on three tapes. Pastepaper endbands. Text is cream colored paper with plain endpapers. 21.5 x 14.5 x 1.5 cm.
I started bookbinding after reading a book on American crafts in high school. After that I went on to college in Rochester graduating with a degree in Printmaking, practicing my own bookmaking and having 4 years of repair work at the campus library. I worked on my own books while I worked in a variety of different sized binderies: medium shop that also did some fine binding, book manufacturer to learn about production, as an apprentice with traveling bookbinder. Now I have come into the art of letterpress printing which I hope to incorporate more into my bindings. Also I have found a wonderful teacher to show me more traditional techniques.
Lizanne van Essen, Cambridge, England.
Alcoholism is a flag book with accordion spine and bottle shaped flag pages made of thin black card (which also covers the thick card covers), with collaged bottles glued on. The anonymous bottles of the book signify that any alcohol will do, whilst the massed ranks of empty bottles portray the increased consumption needed to obtain the desired effect as increased tolerance for alcohol grows. 15.5 x 11 x 1.5 cm.
I studied for an Art and Design degree but my bookmaking was largely self-taught from books and experimentation.
Merike van Zanten, Acton, ME, USA
Inside my House is Safe. Book board, covered both sides with original 1922 house deeds, land surveys, conveyance report, site registration and duties receipt of artist's former cottage in England. Brass hinges and latches. Coptic binding of artist's discarded notebooks, journals, photographs and drawings. 22.5 x 22.5 x 16.5 cm.
Self-taught with local courses in Massachusetts and Center for the Book Arts, NY, Susan King's Ideas for Artist Books workshop, Shakerag 2009, and Vandercook Letterpress printing training EM Letterpress, New Bedford 2003-2006.
Peter D. Verheyen, Syracuse, NY, USA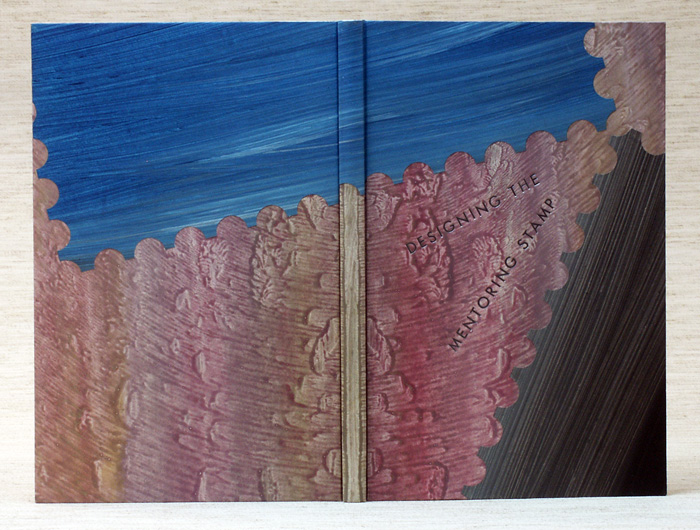 Lance Hidy, Designing the Mentoring Stamp, Kat Ran Press, 2007. Plain endpapers same as text; sewn on 3 tapes, graphite top edge; orange and blue handsewn endband;covered in pastepaper made by the binder with pastepaper onlays; title stamped in graphite on front cover. 23 x 15 x 1 cm. Bound 2009.
Formal apprenticeship at the Buchbinderei Klein in Gelsenkirchen, Germany; internships at the Germanisches Nationalmusum in Nuremberg, Germany, and at the Folger Shakespeare Library with Frank Mowery; worked with Heinke Pensky-Adam and William Minter, and at the Yale and Cornell university libraries. Currently head of Preservation and Conservation at Syracuse University Library. Past Exhibitions and Publicity Chair for the Guild of Book Workers, publisher of the Bonefolder, Book Arts Web, and Book_Arts-L.
Ashlee Weitlauf, Burlington, NC, USA
Millimeter binding covered in hand marbled paper (by binder) with maroon goat trim along entire head and tail; camel Hahnemuhle Ingres endsheets; endbands of yellow Ingres paper around thread core; bound in 2008. 23 x 18.3 x 1.5 cm.
Ashlee Weitlauf received her BFA in Printmaking from the University of Tennessee in 2002 and her MFA in Printmaking/Book Arts from Arizona State University in 2006. Her work has been regularly featured in national and international juried exhibitions earning her numerous honors and awards. She previously worked as a Senior Library Specialist in the Preservation Department at Arizona State University and currently works for Etherington Conservation Services as a Senior Conservation Technician. For more information and examples of her work please visit her website at http:// www.pellmellpress.com.